"Are you looking for whiter teeth without irritation and harmful side effects?" Almost every ad for teeth whitening products seems to start off like this but, in our experience, the vast majority of solutions actually end up being expensive mistakes. However, there's one 'at home' teeth whitening product that does really stick out from the pack – Zero Peroxide –  and the clue to why its different is in the name. You see, this system really is one of the only ones we tested that has no peroxide in it! Yet, despite this, it delivers great results without any of the problems usually associated with using gel whitening kits. Because it has no peroxide in it, the system is an excellent solution for people with sensitive teeth and gums. In our experience, it's quick and easy to use and very cost-effective. So far so good, now let's take a closer look…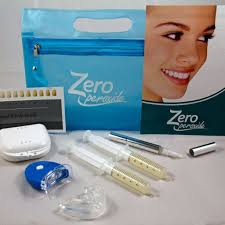 All of the solutions that we recommend work. Zero Peroxide is the one teeth whitening solution that beats them all. We saw results that none of the other products could match. After putting Zero Peroxide through the test, we agree with their claim that it's "The fastest way to whiten teeth without any sensitivity!" If you are looking for the absolute best teeth whitening kit, Zero Peroxide has it!
Zero Peroxide is currently offering a 10% discount and free shipping when you enter the coupon code "10off."  Visit the Official Website to take advantage of this limited time offer.
What's In The Zero Peroxide Kit?
Here's what the Zero Peroxide kit contains:
Zero-peroxide Gel: That's right—no peroxide! In previous tests, we have seen that although peroxide-based systems are very effective they can be difficult to use if you have sensitive gums. The Zero  Peroxide kit comes with a sodium bicarbonate gel that is tested and approved in clinical trials. The gel is actually made from pomegranate and chamomile which are 2 completely natural products proven to improve the color of your teeth.
Teeth-whitening Touch-up Pen: A handy pen used to whiten small areas of your teeth. Because of its small size,  it fits well into a purse or handbag.
LED Light Accelerator: The secret weapon in the system. This unique LED light accelerator speeds up the whitening process by using an oxidizing procedure that enhances the whitening strength of the gel.
Silicon Mouth Tray: Used to hold the gel during treatment.
Mouth tray holder: Keeps the mouth tray sanitary between treatments.
Tooth shading guide: Helps you monitor the progress of the teeth whitening system.
At first, we were a bit skeptical when we heard of a peroxide-free system so we decided to research the science behind the process before we tested it. We spent a bit of time looking at how the chemical process behind Zero Peroxide's gel and whitening system works – here is what we found.
It turns out that the gel contains a mixture of sodium bicarbonate,  aloe vera, pomegranate, vitamin D and chamomile. Every one of them is a natural product, proven to be safer and, it seems very effective. So a good start there then. In fact, research showed us that a large number of laboratory tests using sodium bicarbonate have proven it to be very effective as a tooth whitening compound. The other natural products simply enhance the process.
We particularly liked the LED light accelerator and the way in which it sped up the whitening process. This lets you see results faster than using other systems. Of course, there are other systems that use LED light to speed up whitening but, in our experience, we haven't found any that offer natural sensitivity-free gels with them.
Finally, Zero Peroxide contains fluoride to help strengthen your tooth enamel, so all in all its a very good system.
How Does It Work?
Using Zero Peroxide means following a very simple 3 step process.
First, squeeze the non-peroxide gel into the mouth tray.
Next, place the tray carefully onto your upper and lower teeth.
Finally, wear with the LED light accelerator for 20 minutes.
…and that's it! After getting the  Zero Peroxide system we found that it did, indeed, appear very simple to use; and so it proved to be. The instructions were clear and the process was simple and completely painless. One small niggle is that initially at least, the mouth trays were a little bit uncomfortable but, after wearing them for a few minutes, they actually turned out to be some of the best ones that we tested. The gel tasted fine – in fact, it was very fresh –  and the LED accelerator helped make the entire process fast. Overall, we were very impressed with the system. Here are the results we saw after just 3 weeks of using it.
Customer Testimonials:
Kate Willard – Dental Hygienist, New York

I would definitely recommend the Zero Peroxide kit if you are concerned about sensitive teeth.  We have tried several products in the practice where I work and Zero Peroxide whitening gel has been the preferred option in most cases. Because it also has fluoride inside the gel, we love the fact that it's fighting tooth decay while whitening your teeth!
Sally J. –  Wyoming

I used to be very self-conscious about the color of my teeth, but since using Zero Peroxide, my friends have all commented on how great I look. I've tried quite a few other methods and none have made the kind of difference I was looking for. I can honestly recommend Zero Peroxide to anyone looking for a safe and effective teeth whitening solution.
Anne P. – Glasgow, Scotland

To tell the truth, I wasn't expecting results so quickly. All my tea and tobacco stains are virtually gone and my teeth look a lot healthier in just a few weeks of use. I am really impressed and have started telling my friends! Thank you.
Pros:
No sensitivity or irritation
Fast Results Within a Few Days
Natural Ingredients
No Peroxide or Harmful Chemicals
Full Money-Back Guarantee
Dentist Recommended
USA Made
Cons:
You Can Get Faster Results With Highly Concentrated Chemical-Based Kits
The Last Word
Zero Peroxide is our top teeth whitening choice and with good reason. Like any teeth whitening product there are some minor gripes and you have to check suitability before use. But, follow a few simple safety precautions and the kit can be safely, and effectively used by anyone.
Our testing confirmed that Zero Peroxide works just as advertised. It proves that you don't need caustic chemicals to have white teeth. This is a great choice, especially if your mouth is sensitive. White teeth are just a few days away!