When you have teeth that are dingy, discolored, or stained in some way, it can drastically affect the appearance of your smile. Luckily, there is a fine solution to this problem that's available from your cosmetic dentist. It's called KoR whitening. Many people are actually good candidates to undergo this dental bleaching treatment. During your visit, the dentist will be able to assess your candidacy and devise a treatment plan just for you. Right now, we'd like to just cover the basics.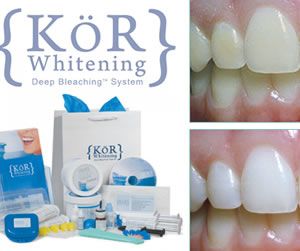 If you want to look your best, it's important that you have a smile that looks great. It could mean the difference between a good first impression and a bad one. Not everyone can maintain a perfect smile, however, especially since there are so many substances that can stain the teeth over time. That's why KOR® teeth whitening treatment is so fantastic. With this revolutionary dental bleaching system, your cosmetic dentist can give you the spectacular smile that you have always dreamed of.
Eliminating Tooth Stains Safely and Effectively
KoR teeth whitening is a remarkably effective professional system used to brighten the appearance of your smile. This dental bleaching treatment can lighten your smile several whole shades in just one visit.
Some of the common causes of tooth discoloration include cigarettes, chewing tobacco, red wine, cola, coffee, and tea. Gradual exposure to all of these can tarnish the appearance of your smile. KoR teeth whitening treatment will eliminate the appearance of these stains and discolorations. Best of all for patients, there are many benefits of KoR teeth whitening and very few risks. No hassle, no worries, no problem.
Far Superior to Over-the-Counter Bleaching Products
While over-the-counter tray systems and whitening strips are quite popular, but they just don't compare to the power of KoR teeth whitening. In fact, professional teeth whitening is better than at-home treatments: it takes less time and the end results are far superior as well.
KOR® Teeth Whitening Means Beautiful Results
It's important to us that prospective patients see the results that KoR teeth whitening can achieve. That's why we're proud to share our gallery of KoR teeth whitening before and after photos. These are actual images of patients. There are so many patients who leave with their expectations exceeded.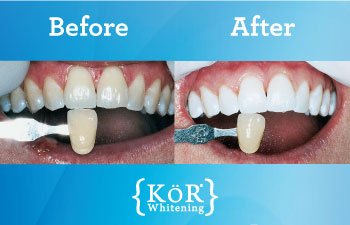 Dental bleaching is remarkably effective and patients are pleased with the results of KoR teeth whitening. Yet they also understand that dental bleaching has certain limits. For example, sometimes tooth discoloration or major dental stains cannot be removed with KOR® teeth whitening. In these sorts of cases, alternative treatments must be considered.
In addition, sometimes the staining or discoloration of a tooth will require multiple teeth whitening treatments rather than just one. This holds true as well for additional KOR® teeth whitening treatment years in the future.
Benefits of KoR Teeth Whitening
KoR teeth whitening is extremely popular for more than just the results it can achieve. With KOR® teeth whitening, there are so many benefits and very few risks. When you meet with the doctor, they will be sure to discuss all of the benefits in full detail. In the meantime, we'd like to briefly go over the benefits of treatment so you have good expectations about what KOR® can do for you.
1. Effectiveness
The fact of the matter is this: KOR® teeth whitening is far superior to over-the-counter teeth whitening products. There are no whitening strips or tray systems on the market right now that are as effective as a single KoR teeth whitening treatment. With professional teeth whitening, you get professional results.
2. Fast Results
Not only is KoR teeth whitening effective–it's fast too. Your average whitening strip or try system will need many hours and hours of use just to get noticeable results. Compare that to KoR teeth whitening: just a single one-hour visit can make your smile several shades whiter. It's called "zoom" for a reason.
3. Safe
Because patients visit a dental practice for KoR teeth whitening treatment, they are able to receive professional-grade care. This means added safety and security for each part of the treatment. Our team will assure that you are comfortable and well cared for from the minute you enter to the moment you step out of our office.
4. Minimal Risks
With KoR teeth whitening, there are all of the above benefits and very few risks. The most common risk is temporary tooth sensitivity. This can be addressed in our office after treatment and easily treated while you are at home. We can go over the ways that this tooth sensitivity can be managed in more detail during your visit to the practice.
KoR Whitening may be just the answer you've been looking for to enhance the overall brightness and beauty of your smile. It's got so many benefits and very few risks involved. For more information about your options for effective cosmetic dentistry, contact your cosmetic dentist for KoR teeth whitening today.
Ideal Candidates for KOR Teeth Whitening
In general, candidates for KOR Whitening are people who are in good dental health but have teeth that are discolored or stained. People with severe tooth decay will need to have that addressed prior to any sort of teeth whitening treatment. During your visit, we'll see if KoR teeth whitening is the best option for you. If not, we will suggest alternatives such as porcelain veneers.
KoR Teeth Whitening vs. At-Home Whitening Products
KoR is much better than at-home teeth whitening products that you can pick up at the store. Just one visit to our practice may be all you need. We encourage you to look through our gallery of KOR® teeth whitening before and after photos to get a sense of what KOR® can do for you.
People Who May Not Be Good Candidates for Teeth Whitening
In general, people who are not good candidates for KoR are those who have severe tooth decay or serious damage to their teeth. Prior to undergoing any kind of cosmetic treatment, the structure and health of the tooth will first need to be restored.
Patients who have sensitive gums or sensitive teeth may not be good candidates for KoR either. Tooth sensitivity is common after KOR® teeth whitening treatment, so ideally we want to avoid another that would make the sensitivity more acute.
Alternatives to KOR® Teeth Whitening
Since KoR whitening is not ideal for all people, we'll be more than happy to discuss alternative treatments during your consultation. Some possibilities include porcelain veneers and dental bonding. Both of these treatment options will help mask stains from view.