What We like:
A+ Whitening Strips Advanced Teeth Whitening Strips offer a lot to love for many different reasons. But more importantly than anything else – and one of our favorite reasons for buying this product – is the low cost.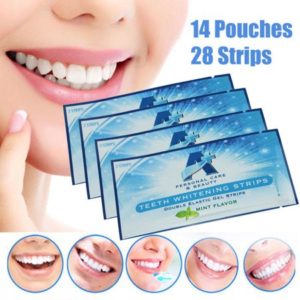 Not only is this an effective whitening strip, but it is a relatively inexpensive one at that. You'll only have to pay a fraction of the cost that you'd pay for one of the more popular name brands. This is definitely a good thing that you will grow to appreciate. Your accountant isn't going to do any complaining either!
These whitening strips are also:
easy to use
available in mint flavor
use a double elastic gel
makeover your entire smile and 14 days
provide visibly whiter teeth very quickly
require the use of no pens, gel tubes or mouth trays
carry them anywhere with you while on the go
As you can clearly see, these whitening strips can do much more than just get your teeth white. They can save you a great deal of money and help you develop the gorgeous, bright white smile that you've always wanted.
What We Didn't like:
On occasion, when you spend as much time as we do learning about and reviewing products, you'll come across a few things here and there that are less desirable about a certain brand or specific product. In the case of A+ Pro Strength whitening strips, we were very impressed with the product overall but did find a few things that customers were unhappy with.
All in all, we did not discover any major negatives about this product. But a few customers had some critiques that they had shared in other reviews. We will discuss those critiques with you below.
Left white spots on teeth – one reviewer was unhappy with her overall experience because she said that the whitening strips did not whiten her teeth evenly. In fact, she claims that the whitening strips left white spots on her teeth and did not thoroughly clean all of the stains the way she expected. While this certainly may be true – although there's no way to verify – we did not actually read about this complaint anywhere else. So hopefully this was a one-time thing and this particular reviewer happened to get a bad batch and nothing more. Clearly, we cannot say for certain whether this happened or not. But even if it did, this is an isolated complaint and nothing more.
Whitening strips would slide on bottom row of teeth – another reviewer took the time to share his experience, and one of the things he mentioned was the whitening strips sliding on the bottom row of his teeth. But here's the thing… This was not an overall problem that the person experienced for the entire half an hour that they were to wear the whitening strips. On the contrary, the reviewer said that the strip would only slide briefly for an instant, but once it was locked into place it would not move at all. Again, this is a minor complaint at best and nothing to spend a great deal of time worrying about.
Our Overall Feelings:
Overall, we really like A+ Pro Strength for a wide variety of reasons. We have no problem recommending these strips to our closest friends and family members. They get the job done. They are made of simple ingredients. They are very low-cost.
What more could you ask for?
Now we will take some time to provide an even more thorough review. Stick with us to find out the rest of the scoop.
Our Full A+ Pro Strength Whitening Strips Review
We have a few more topics that we would like to discuss as part of our thorough investigation and review of these teeth whitening strips. To learn more, please keep reading.
How Do They Perform?
This is always an important question, so we like to get it out of the way as quickly as possible. Performance is everything when purchasing teeth whitening strips of this nature, so you need to know if they are going to meet your high standards.
We are happy to tell you that these whitening strips definitely get the job done. The majority of the people that have reviewed this product have experienced tremendous success. Within 14 days, some reviewers were able to see their teeth become much brighter and whiter by as much as eight shades.
Plus, you cannot beat the price of this product. It literally costs a fraction of the price of the more expensive teeth whitening strips. So you get the best of both worlds by purchasing a product that works for a low-cost.
Are They Comfortable to Wear?
Other than the one minor complaint about the bottom row slipping until safely secured over your teeth, we have not read about any major comfort complaints in regards to these whitening strips.
On the contrary, there are many happy people that felt these whitening strips were quite comfortable. This is absolutely a good thing because you'll know that for the 30 minutes a day that you have to wear these whitening strips, it will be like you hardly notice that they are even there.
Main Ingredients
These whitening strips only contain two ingredients. The bulk of the product is made of water. But there is also a 6% hydrogen peroxide solution. The HP is the main active ingredient and the reason why your teeth are going to become beautiful pearly whites in no time at all.
How Do They Work?
These whitening strips are very easy to use and they work by following a simple three-step process.
Step 1: place one strip over your lower teeth and make sure the gel side is folded against your teeth.
Step 2: place one strip over your upper teeth and also make sure that the gel side is facing in the right direction.
Step 3: after wearing the strips for 30 minutes, please take them off of your teeth, dispose of them and then thoroughly rinse your mouth out.
In Closing…
At the end of the day, A+ Professional Strength is a product that we can really get behind and endorse. We recommend this product because:
we haven't heard any complaints about it being painful on sensitive teeth
it has a fresh minty taste
the product actually works and whitens your teeth
you'll notice an immediate difference after one or two sessions
the whitening strips stay firmly in place
If you are ready to have beautiful, bright pearly whites, then we highly recommend you try A+ Professional Strength today.