Another top selling 'at home' teeth whitening system, Alta White has been steadily gaining a good reputation for itself. But, we have to ask, is the hype justified, and does Alta White deliver the goods? Well, as you might expect, the manufacturers of Alta White claim that their products can give you professional quality results at home for a fraction of the cost of having your teeth whitening done professionally. Well, lets examines the claims and find out if this product really does give you a better, whiter smile..
What Is Alta White?
Lets start with the basics. Alta white is an 'at-home' teeth whitening kit designed to be simple and clean to use. You don't need any specialist knowledge or additional equipment to use the system and really, all it takes are 3 simple steps to get a whiter smile. First, you use one of the swabs that are supplied in the kit to apply the whitening powder directly onto the surface of your teeth. This 'whitening powder' is actually made up of several compounds including magnesium ,aluminium trihydroxide, glycerine, methylparaben and propylapabaren. Sounds scary but, actually, all of these are to be found in a range of dental products such as toothpaste and are proven to be very safe. The main active ingredient, however is bicarbonate of sodium which you may know as baking powder.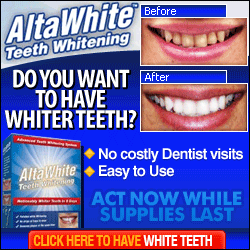 Thats not as strange as it might seem at first for baking powered is actually  – in fact its one of the most popular active ingredients in a range of toothpaste and teeth whitening products) and, of course, the whitening agent itself – peroxide. And that's where a bit of bad news comes in, especially for people with sensitive teeth or gum problems, because peroxide is definitively not recommended if you suffer from any of these conditions. If your dentist has passed you as fit, however, you shouldn't have any problems using Alta White, and its a very easy to use solution to a difficult problem.
Advantages of using Alta white whitening kit
There are several definite advantages when it comes to using Alta White, most of them relating to its ease of use. Here are the main advantages that we found with the product
Its a very clean and easy to use system – no need for complicated procedures, messy trays or uncomfortable gum shields.
The more you use the kit, the whiter your teeth get
Simple , quick and convenient to apply, so you can use it almost anywhere
The peroxide acts as a barrier against bacteria so it can also improve the overall health of your teeth
It comes with a full, cast iron money back guarantee
Disadvantages of Using Alta White
The product contains peroxide, which is a reactive agent and can cause some people problems, particularly if they have sensitive teeth or underlying gum problems.
It has to be used with the special applicator – don't lose it !!
It can take several applications before you start to see results, depending on how badly discolored your teeth are
Where to buy Alta White
Unlike some of the other products we have reviewed, Alta White is actually available to buy in stores but it can be hard to track down so we recommend that you buy it direct from the Official Alta White website.
Alta White provide a priority order system meaning that , no matter where you live you can usually get the product delivered next day, or at least within a couple of days guaranteed. You can also insure the shipping if you want. You also get a cast iron (and very generous) 90 day return policy when ordering so you really are well covered in the event that Alta White doesn't live up to its promises. Alta White also ships internationally but we recommend that you check on the official site before ordering to make sure that your country is supported.
How To Get Alta White Free
For a limited time, Alta White is available on a free promotional trial. All you have to do is pay the shipping and you can try out this product gratis, nil and for nothing! Great offer, so why not click below and head on over to the Alta White website and start your trial.
Our Verdict
Well, its clear that Alta White does what it promises and is a reasonably good teeth whitening product. Like all peroxide based systems it should be used with care especially if you suffer from sensitive teeth or have a history of gum problems but, other than that it seems very safe. As with all of the products we review, we always recommend that, if you have any doubts, you should consult your dentist before using them.
Alta Whites main advantage, however, lies in how easy it is to use. You can carry it with you on holiday, or on business trips and perform your daily teeth whitening regime wherever you are. It only takes a few minutes to do and, over time results are as good as most other systems we have seen. Given the low price and ease of use we rate Alta White as our #3 teeth whitening product.